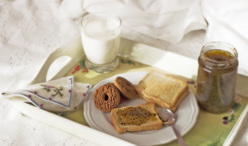 Techniques of the Week
for
Before, During, and After
the sale.



Hello there,
This will be my first iteration of "Techniques of the week" which is an ode to simple writing and marketing techniques that can be used
immediately
with
measurable results
in the Before, During, and After of your sales process.
With that said, lets venture chronologically…
The Before: The Mafia Offer
This technique is known as the "Mafia Offer", as it is an offer that any qualified lead for your business just cannot refuse. It can be as simple as a free gift for calling, registering, or whichever "call for action" that you choose. These free gifts can be:
·
Info-products
- Free Report/Newsletter
·
Merchandise
– Shirt/Mug/Keychain
·
Free Trial
– Give a demo of what it can do for them
·
Great Deal/Offer
– Discounts, Upsells (Buy basic package and upgrade for free), or Double your moneyback-gurantee (Risk-free)
·
Service/Product
– Come in now for first session and get second for free
The whole point is to entice your qualified lead to try it so you can build the relationship for a sale. You can even Double your chances by offering a second mafia offer for contacting you
IMMEDIATELY
. This will motivate your lead to fulfill the call to action.
*
Mafia Offer
– You will not be able to refuse, as the deal is too good to be true… but it is.
The During: The Upsell
The infamous "Upsell" technique, this technique is used after you have an interested lead who is willing to buy a basic package, but needs an incentive to buy the premium. This can go as far as offering many of the things in the list above to offering more such as preferential schedule, rewards' programs, and Exclusive discounts, deals, etc. The purpose is to build a relationship with the lead and create loyalty to each other.
*
Up sell
– If you upgrade to this you will get "X" for free and receive more "Y".
The After: The Morning After Breakfast
This is called the "Morning After Breakfast" Technique. After you have given your mafia offer and "upsold" them to the premier package, you show your gratitude to your customer for choosing you to provide them your service and product. This can be as simple as a mailed "Thank You" Note or a dinner on you.
*
Morning After Breakfast
– Make your customer breakfast in bed or a rose to cement their loyalty to you.
And there you have it, 3 simple techniques to build relationships with your leads from start to finish. For more techniques, examples, or questions, simply follow my blog and you will have it. Simply, easily, and with posthaste.
Cheers,
L. Thomas