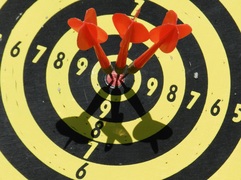 In my years as a writer, I have edited hundreds of resumes. And what I have learned is that many people have no idea the process you have to follow to be hired. Especially when it comes down to their resume.

And the saddest part about this is that your resume, albeit is only used once to get an interview for a job, is the most important piece of paper you can have to boost your career and your income.

Because even if you have a job, you should continually be updating it and having it out to be found by recruiters everywhere. This is helpful in leveraging for a raise and getting a better opportunity to be paid what you're truly worth. Certainly not minimum wage or other outrageously low sum.

But before I go into the 3 things I have learned to get hired, I'd like to give a quick overview of the hiring process. Because I have worked specifically with Human Resource Departments for technical writing, and know exactly how they work.

First, most human resource departments get hundreds or thousands of applications. Being human, they don't have the time to go through them all. So they go through two different strategies.

· Strategy ONE

o Let the hiring software root out the good resumes by looking for keywords that they want from their candidates

· Strategy TWO

o Go through themselves and eliminate resumes by how good they look

§ Eliminating resumes for any arbitrary thing such as font type, where you live, or if it was hit by the dart they were throwing.

Because of the volume of resumes and the strategies they use. Your resume has an extremely low chance of being seen, let alone accepted for an interview.

Keep this in mind as I proceed with the 3 things I have learned about getting your dream job…

1. You need multiple resumes at one time.

The first tip is to have multiple resumes at one time. This allows you to have a customized resume for a particular job and not a particular company. As the jobs across the board are relatively generic from worker (customer service, engineer, cashier, etc.) to manager (Supervisor, Manager, VP, GM, etc.).

With worker jobs, the fundamentals are the same. The hiring manager needs someone with a certain set of skills that they need for a job to get down. This involves similar soft skills like being able to socialize and sell. And hard skills like engineering, being licensed (doctors, etc.), information technology, etc.

With management jobs, they need to know you can manage a group of people. And successfully lead them to meet company's goals. This is the same from being a CEO to being a team manager.

Due to this, you should know exactly what job you want and build a resume to fit that job. If you want to be a salesperson. Have a sales resume. If you want to be a professional writer. Have a professional writer resume. If you want to be a manager. Have a management resume.

Making a perfect segue into the next thing I have learned... the power of the Law of Averages.

2. You need to build your resume off job descriptions.

The Law of Averages is that if you take the average of answers, you will get closer and closer to the exact answer. In this sample, you use it to get closer and closer to becoming exactly what the hiring manager wants.

Make a resume that impresses by being exactly what your employer wants. While also beating the search engine by having the keywords it needs.

The strategy to get such a resume goes as follows.

· Step One: Identify

o Identify the exact position you want and the skills you need to be successful in it

· Step Two: Average

o Find 5 job descriptions for the exact position you want

o Average them out to find the key things that multiple hiring managers are looking for

o Use a lot of the job description words as well as it is what they use for the hiring software

· Step Three: Write

o Using the job descriptions, write your resume to fit exactly what a hiring manager wants.

o Using the words that they use to search with the hiring software.

Now that you know how to write the best resume possible, you need to ensure it is seen by the one in charge of hiring.

Which leads into the last thing I have learned…

3. It is MANDATORY to follow-up with the person in charge of hiring.

The biggest problem facing your resume when it is sent in, is getting past the gatekeepers. Including the hiring software, the recruiters, and others it goes by.

To get it passed them, you need an over-the-top resume that gets noticed.

The best way for your resume to get to the top of the pile is it being Unique.

Unique Resume Strategies

· Know someone who you can put as a reference who works there.

o Find someone through LinkedIn and get the referral

· Use a gimmick like a shoe with a resume attached that says, just want my foot through the door.

Or just get in contact them and become human and real to the hiring manager, instead of just a number.

This is easiest with calling, showing up, or building a relationship through different channels.

With these 3 things I have learned, you can maximize your exposure to hiring managers everywhere. You can increase your income and be paid what your worth. Get the job you always wanted and live the life you deserve.