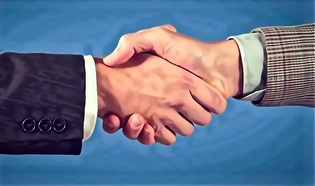 First off,

You need to provide good service, be open, honest, and fair with your clients, and teach them from the beginning that you are a referral business.


To begin,

You need to find out the potential of your current client's ability to become a champion for your business. As some people just are not good at referring others. That is why during your business process with your current client you find out who they are, who they know, and how much they enjoy sharing their business experience with you.

After you develop an idea of how successful they will be as a champion for your business, you put them into one of these 3 categories.

Gold – (2 referrals per year) these clients are your champions. They seek out and exploit every chance to tell friends, family, and strangers about you and your services. And tell them just how smooth and easy you made it for them.

Silver – (1 referral per year) these clients are your regulars. They do not actively seek out every hint of an opportunity to billboard your services, but instead will refer someone if someone is blatantly looking for help to purchase or sell their house.

Bronze – (Roulette Referrals) these clients are passersby. They kind of forget you exist except when someone asks them who they used to buy or purchase their house and then they refer you.


Next then,

Once you decide how effective your current client will be as a champion. You can put them through the process to teach them that you are a referral business, what services you provide to your ideal clients, and the tell-tale signs of someone looking to enter the real estate market.

Such as pregnancy, recent adoption, promotion, transfer, trouble with aging parents, a recent empty nest, or trouble in a marriage or relationship.


After that,

You need to ask.

And not ask in an off the cuff remark at the end of a conversation like…

"Oh yeah, could you tell any of your friends to give me a call if they are looking to buy and sell their home. Thanks!"

It needs to be a real conversation. Started out with…

"I have an important question to ask you."

Because a quality referral request should be take least five minutes maybe even ten minutes to emphasize how important it is to you and how much you value them to help you out.

And in those ten minutes you must…

Ask for help
• Say "I need your help" or "I value your help" and watch as they do everything they can to make sure you get the referrals you need.

Ask permission
• Ask permission to see if they are willing to help and that you can ask about referrals
• Say "I'm glad that I've been able help you. I was wondering who else you know that could benefit from my service. Do you have a few moments to talk about it"

Get specific
• Get specific about who they know, how they know them, and are they currently looking to enter the real estate market or in the near future.
• Going as far as to ask specifically about churches, clubs, associations, etc.


And finally,

Once they refer someone thank them profusely and ask:

• How do you know this person?

• How would you describe your relationship?

• What type of a personality will I encounter with this person?

• What are a few of this person's personal interests?

• What organizations does this person belong to?

• Do you see anything that we have in common?

This way you can have an idea of how to convert them before you contact them.


And there,

Now you have it. The Step-by-Step Procedure to turn Clients into Champions. And your business into a Referral Business.