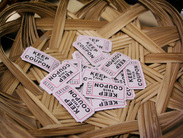 Paying the Ticket Price.

Paying the Ticket Price is the phenomenon of when people want to do something, but do not want to pay the cost of it in risk and money. Due to Fear or Frustration.

Fear of Paying the Ticket Price

The major aspect of this phenomenon is not wanting to risk a $1000 to have the opportunity to make a million.

I have faced this phenomenon myself over the years. Having been put up against ordeals and steep upfront costs that I was afraid, quite literally, afraid to pay. For a time, it kept me from doing the things I wanted because of the fear of losing and gaining nothing.

In fact, it happened. It happened a lot.

There would be many times where I would pay into something and find that I had paid for a waste of time or an opportunity that wasn't right for me. Or I would just not try at all.

Even worse, it used to happen to me whenever I would face rejection.

In the past, I just didn't want to take the risk or pay the ticket price to meet a new person and build a great new relationship.

An example of this is when I used to be squeamish in talking to new people because I was afraid to say the wrong thing or have them not like me. I would instead make up every excuse in the book to not talk to anyone.

But I realized after a while that I was not living my life. When faced by my unfounded fear of Paying the Ticket Price.

Another example is when I did not have a lot of money and needed to take a $1,000 plunge to have the opportunity to make more. I was extremely afraid to take the plunge because doing so would have put me in a much worse situation if it didn't pan out.

And these experiences taught me that I had to learn to Pay the Ticket Price. As the only real way to gain anything is to risk something. Either reputation, money, or your self-esteem.

So the real question is…


How-Do you learn to Enjoy Paying the Ticket Price?

There is 3 fundamental steps to learn to enjoy paying the ticket price.


1st Step: Acceptance

Accepting that you may never feel right about meeting a new person or taking a risk.

This is key as many people believe that it will may get better over time. But more times than not, you may never be able to escape the anxiety you have to overcome each time you have to move out of your comfort zone or take a risk.

This is just a natural reaction of the body when you attempt to take it out of where it feels comfortable. The fear of the unknown or something new elicits this response to help protect you. But many times, it's a hindrance. Keeping you from achieving your true potential.

For example, I network constantly and every time before I head out to go to a new place to meet new people, I'm struck.

I'm struck with the anxiety of the situation.

I am literally driving to a place I have never been, meeting people I have never met, going to talk to them as an expert of what I do, and ultimately try to SELL my services.

All within a very short-time frame.

And many times, they will have no need for my services and I will be rejected.

The very idea can-be nerve-wracking.

But the minute I get there and settle in. I feel great about the whole scenario and perform perfectly. Doing what I set out to do.

Which is why it is so important to understand that you may never feel good about what you have to do. And having this realistic expectation keeps you grounded and helps with the next step.


2nd Step: Find a way to PEP yourself up.

This step is crucial in overcoming your anxieties.

As many things in life, you can't just jump into it. You have to WARM-UP.

Like exercise, you have to warm your muscles up before you work out or you'll get an injury.

The same goes for overcoming your anxiety. You can't just go into a situation without being mentally prepared to act. Because if you do you may make a mistake or not have gusto in what you're saying.

Others will pick up on it and not be sold on you knowing what you're talking about. Putting them off on doing business with you or even continue talking to you! (Even if you're the best at what you do)

Therefore, you have to come up with a mini pep-rally or ritual that puts you at ease or fires you up. One you can do every morning to put your anxiety to rest or overpower it.

This can be any activity from:

· Talking yourself up

o Tell yourself you're an amazing person in the mirror and this means nothing to you

o Tell yourself that many of done this before and been successful and you will be too

· Jump around

o Get your blood flowing with some light exercise or 20 minutes of yoga

· Drink or Eat

o Have a cup of your favorite drink or a plate of food to help clear the morning haze

· Rewards

o Give yourself a reward if you triumph over your anxieties and did what you set out to do

· Put your mind at ease

o Meditate or do an activity that calms you enough to do what you need to

The activities are endless as long as it helps reduce your anxiety so that you can perform.


3rd Step: Use your motivation and seize the day

After your ritual, it's imperative to get right into it and ride your motivation as long as you can to do what you need to.

Make the calls you need. Go to the meetings you need. DO EVERYTHING YOU NEED.

And if you feel you're losing it. Take a few moments to pump yourself up again to rekindle your fire or mediate to put yourself back into balance.

If you take a hit to your ego, because of a mistake. Just remember it doesn't matter as long as you don't let it trip you up and you finish off strong.


Your Payment of the Ticket Price.

Now you understand the phenomenon of Paying the Ticket Price and how to overcome the frustrations and fears it causes.

Because many times people will avoid a short term pain, even if it will benefit them a long-term gain.

Which is why it is important to identify your feelings and use these tools to help keep them in check.

Helping you overcome your anxiety of short-term pain and bring you success in the long-run.



Enjoyed Today's Article?

Then Subscribe and Let us know what activities you do to pump yourself up or put yourself at ease to triumph over your anxiety.