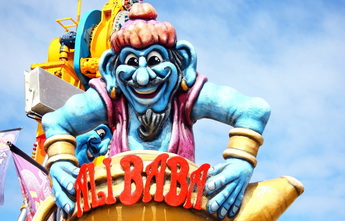 They Bring People into Their World.Questions.
Have you ever been sucked into another world?
Feeling it was so real, you escape the confines of this reality to feel like you were there?
Breathing it? Living it?
Escapism.
Statements.
This process and how you feel is what I like to call "Going to the Circus".
Because whenever I went to the circus as a child. I would feel like I had wandered into an entire other world. The sights, the sounds, the smells. The five senses flayed alive to let me leave my old world behind. And grasp this new one wholeheartedly, even for just the day.
And the man who would help transport me there was the Ringleader.
The rhythmic rhyme of his voice and the way he caricatured the world I was entering, brought me full circle into the circus.
The Point
Now why is this important in your business?
Because albeit the circus is a bit off the cuff, it is still a business. And a successful one if the Ringleader can bring people into his world. As I would visit the circus again and again to get that feeling of escapism back. The feeling of "Going to the Circus".
And if you think it isn't that important,
ENTIRE BUSINESSES
are built upon this process of "Taking People to the Circus", the oldest example would be the oral tradition of telling stories, having plays, or going to the opera. It has evolved since then into electronic forms such as movies, video games, and coming up virtual reality. As well as physical favorites such as concerts, live shows, and more. If anything these are limiting the true nature of "Going to the Circus" as any time people leave the thoughts of their reality and see themselves in another world can suffice.
People buy into these examples because they want "The EXPERIENCE". The experience of "going to the circus". Which is one of the 3 basic principles of why people buy.
The 3 Principals of Why People Buy
Needs – People need food, oil, water, and shelter. (Smartphones are currently debatable.)
Wants – People want to stylish clothes, nice cars, and big houses (All things to emphasize who they are.)
Experiences – People don't want things. People want the experience those things bring. They want to have experiences so they can tell stories and when they die, have no regrets about who they were.
Point of Reflection.
Now you have to ask yourself.
Are you only appealing to people's needs?
Needs that anyone can fulfill?
Or are you doing a bit better and going for their wants?
Their
fickle
wants that can change at a moment's notice and leave you out of business?
Or are you creating an unforgettable experience that SURPASSES WANTS AND NEEDS and makes people want to be a part of your world?
Which is it?
The How-To.
But how do you take people there? How do you bring people into your world as a business?
The process is much more like a drama class than a business class. All of which will be revealed…
here.



What was the last unforgettable experience that you paid for?

Share in the comments.