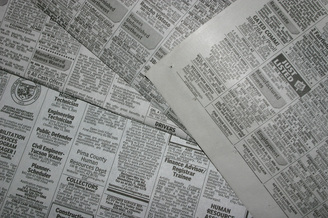 How to Track Ads On and Off Line
If there is anything in this life that you need as a person.
The Top 3 will be food, water, and love.
If there is anything you need as a business.
The Top 3 are customers, advertising, and the ability to track your advertising.
As customers bring in cashflow. Advertising brings in the customers. And you have nothing unless you can track what's effective.
Therefore, let's go over the best ways to track the effectiveness of your ads.
First up is Offline Advertising. 1.
Point Of Origin Method
-The best way to track ads is having a trail to follow from you to a
customer's point of origin
. This is harder to do in offline advertising unless you know exactly where your customer came from such as a mailing list, call-in, or referrals because they are already in your system. The easiest way for this to work is to input every new customer and prospect into your database through promotion, Infoproducts, and more.
This is easier to track ads for current customers in your ecosystem to see how they respond to deals and pricing.
2.
Gate Key Method
- But the best way to understand where they come from before they are in the database is to only let customers
through your gate who have the key
. The key will be customized codes that identify exactly which flyer, postcard, magazine ad, etc. was used to bring in the customer. And you incentivize the customer to give the code by telling them it's the only way to gain access to your special offers or other gimmicks.
This is easier for finding out where they came from outside your ecosystem.
3.
Just Ask Method
- And a not as good as others, but a way to get a general consensus is to survey how they heard about you through the sales process. This as simple as asking how they heard about you.
This is a less effective way to find where they came from outside your ecosystem as they might not remember or may just not tell you.
Next up is Online Advertising.
Online Advertising is much easier to track than offline as everything leaves a trail and with the right programs or systems, it becomes easy to do. The hardest part is the setup to ensure you're getting the information you want from the analytics.
1.
Buy a System
– This makes it easy as you have a support group to do it for you and gives you tech support if you have problems after. These are better than most free systems as you get more analytics and less DIY to make it work.
The way they work is you just put a short code into your website and they will take care of the rest.
a. This includes…
i.
Unified Social
ii.
Easy Tracker Pro
2.
Setup a Free System
– Free systems are great for the DIY Guru as you have to do a little extra work to get what you want from them, but you don't have to pay for it. These entail making customized shortened URL's and setting up other systems to bring prospects in and when they click on them, they tell you where the clicks come from. This is more intensive and sometimes doesn't provide you with the analytics you need.
a. This Includes…
i.
Google's URL Shortener
ii.
Bit.ly
3.
Use the system already in place
– if it's a major advertising channel, it most likely has its own analytic and ad tracking system. Therefore, use it. This includes search engines (Bing, Google, etc.) and social media (Facebook, Twitter, etc.). The worse part of this method is you have to learn each system to follow your analytics and can have steep learning curves.
And there you have it. The different ways to track your ads, on and off line.
If you know a better way to track your ads, let us know in the comments.