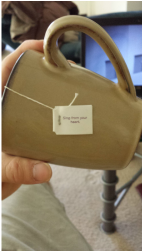 You are your habits. Everything in your life from success to happiness is a summation of your habits. Therefore, to be successful is to have successful habits.
When looking at how habits form, they follow a three stage pattern, called the Bliss, the Struggle, and the Acknowledgement.
Stage 1: THE BLISS
This stage is known for the bliss you feel when you're motivated to change your life. This is the most important stage as your motivation is highest to prepare the foundation to change.
The most important part of this phase is setting Reminders to trigger your new behavior. This can be alarms on your phone that go off when you want to do your new habit or combining your old habits with a new habit (For example, by putting your razor on top of your tooth brush will remind you to shave every morning). To institute this changes, you must schedule your reminders into you're planner to make it a part of your
routine.
Reminder (the trigger that initiates the behavior) – A good reminder such as an alarm clock on your phone, a posted note on wallet, or a timer app that keeps you moving (Timers4me Application)
Routine (the behavior itself; the action you take) – institute the reminders into a written schedule or phone schedule
Stage 2: THE STRUGGLE
This phase is where most people quit their new habit due to having a poor foundation, missing their triggers, and having a fall-out of motivation.
A few techniques to help you in this stage are Recognition, Self-Talk, and the Reward.
Recognition
– Recognizing that you are struggling to uphold your habit and need to stay on track by using self-talk and rewards.
Self-Talk
– Telling yourself to stay motivated by using positive criticism (I can do this), creating a rival (I can do better than them), or having a goal (If I do this, I will be successful and accomplish my dreams.)
Reward
– Giving yourself a reward when you maintain your habit (I ate healthy all week and I deserve one piece of chocolate cake.)
Reward (the benefit you gain from doing the behavior) – start small and build gradually instilling small victories along the way to that ultimate victory
Stage 3: THE ACKNOWLEDEMENT
In this stage, you acknowledge your habit as second nature. However, problems can overrun your new habit causing a relapse.
What to look out for:
DISCOURAGEMENT:
Moments of weakness where you feel the habit isn't working or isn't delivering the results you want.
DISTRACTIONS
: Detracts your focus from forming the habits you want by taking you out of your routine. (Emails, Texts, Social Media, etc.)
SATISFACTION:
Being satisfied can stop you from maximizing your habits potential as you stop focusing on the things that made you successful in the first place.
Tips for Habit Formation:
Forming new habits is easiest when you are in a new setting such as a new apartment or while on vacation because all your old triggers to your old habits are gone. This lets you start fresh and build new habits that you can carry on into your daily life.
The best way I know to discover a good reminder for your new habit is to write down two lists. In the first list, write down your habits chronologically that you do every day that you can combine new habits with.
1. Wake up
2. Weigh Yourself
3. Make coffee
4. Make Breakfast
5. Brush teeth
6. Drive your car
7. Check the mail
In the second list, write down things that happen to you each day that can be used as triggers for a new habit.
1. A commercial comes on
2. Getting a text message
3. Getting an email
4. A song ends
5. Stopping at a red-light
This gives you a wide range of things that you already do and already respond to each day that are perfect reminders for new habits.
Works Cited
Duhigg, Charles.
The Power of Habit Why We Do What We Do in Life and Business
. New York.: Random House, 2012. PDF.