Question.

Have you found yourself at the gym with your favorite machines broken or with a lineup of people extending from it?

Have you been unable to make it to your gym, was stuck with a lighter gym with less equipment than you're used to, or even worse no gym?

This has happened to me more than I care to say with all the traveling I do and my hectic schedule.

In facing this problem of not having access to the equipment I want, I found a system to get the workout I need from anywhere including the office, at home, while on travel, and even in places with no equipment at all like nature.

What exactly do I do to maintain my fitness anywhere?

It's quite simple really. Rather than revolving my workouts around a set type of exercises. I revolve my entire workout around the upper or lower body and the muscle groups in those sections.

For example, in the upper body, you have your abdominals, chest, shoulders, biceps, triceps, lower back, and upper back. And in the lower body, you have your calves, gluteus, hamstrings, abdominals, quadriceps, and hips.


The Muscle Groups

By knowing these muscles groups intimately and having the right order to work them in. You can easily find the machines in a new gym to work those muscle groups. And if you think you're up to it, you can work out anywhere by simply knowing a few bodyweight exercises for those muscle groups.

And when you become advanced enough, you can even move the order of the muscle groups to get the best workout for you, but for starters take it easy, follow the pattern, and don't do too much. Because the pattern is designed for continuous exercising and has no break by working opposite muscle groups of the body to refrain from causing yourself injury.

The System

Using the system below you can work out no matter you where go. On the left side you have the individual muscle groups that you need to work out for a full upper and lower body workout. Going along the top of the table is the bodyweight, dumbbell/kettlebell, and cable/machine exercises you can do to work that muscle group.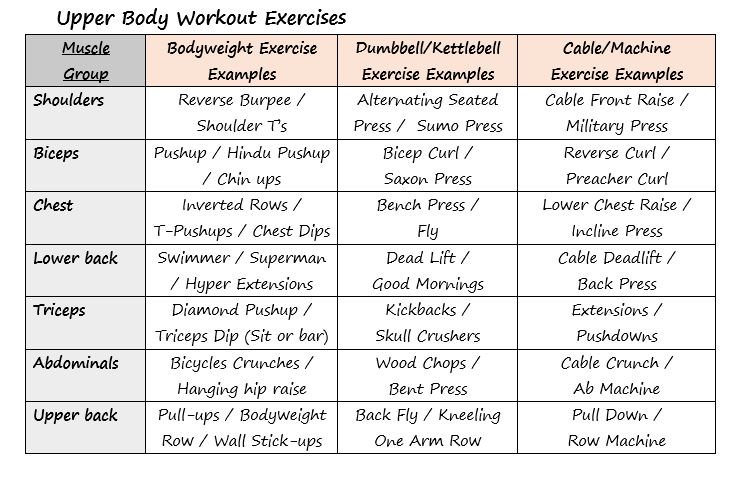 Workout Example

For example, once you're done with shoulders by doing 3 sets of kettlebell sumo press, you can go into the machine preacher curl to work your biceps. Once you're done with biceps, you work into your chest with chest dips, and so on and so forth until you go through the entire table.

Once you're done, you can repeat the table with a new exercise until you feel you have reached your max, which is usually reached within .5 to 2 hours depending your your current fitness level.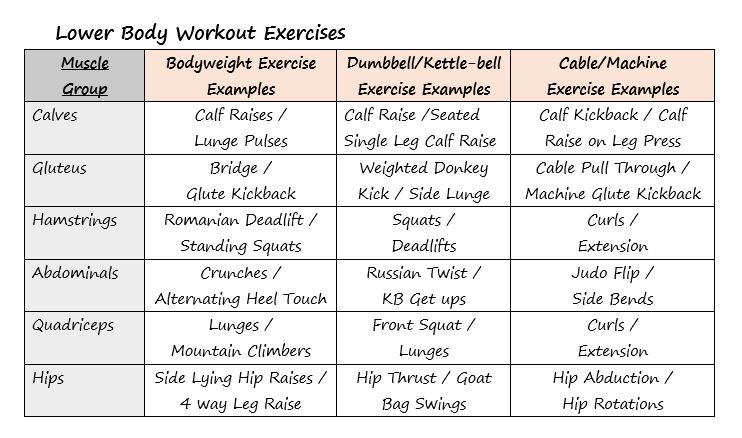 Conclusion

And an anywhere, anytime workout program, simply follow the body-weight only exercises, and use dumbbell-type items, available to you to do the DB/KB exercises. For even more options, you can bring bands with you.

Now, you can print this and follow the examples, or simply remember the pattern Shoulders, Biceps, Chest, Lower back, Triceps, Abdominals, and Upper back for an upper body workout. And Calves, Gluteus, Hamstrings, Abdominals, Quadriceps, and Hips for your lower body workouts.


This will allow you to maintain your fitness wherever you go.