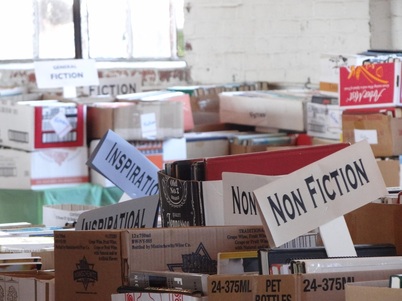 Growing up in a small town in Pennsylvania. There was never much to do.

In this abyss, I found my love of reading.

If you found me, I would be reading two books at the same time. One thick book that was way above my reading range, and two, a dictionary to figure out all the new words I didn't understand.

Delving deep into the words to find their true meanings led me to what I do today.

In fact, I have always enjoyed words and really enjoy bringing new words into my repertoire.

But in my travels, there are certain words that just feel right. Words that after you hear them for the first time, tickle your funny-bone and ring in your ears. Like they were meant for you.

Of the many words I have fallen in love with over the years, these are my TOP 11.

11. Doggedness - strength of purpose, tirelessness, resolve, patience, and stubbornness.

This word has always had a deep meaning to me. It would be one of the prime words I would use to describe myself. The meaning as well as the word itself just sits right with me.

Having the fire in your belly, the spark in your soul, the drive to move forward over all adversity. Meeting the costs, and enabling yourself to sacrifice.

That man has doggedness.

10. Opaque – murky, non-transparent, and cannot be seen through

This word is here for more its artistic sound rather than its meaning. It is a unique word, and its sound is a rarity in and of itself.

This word reminds me of the future, an abyss, and the fog of war. The future is clear as mud, an abyss is so vast you can't see anything, and the fog of war is the known unknown.

Opaque describes these situations perfectly. The future is opaque and is just unpredictable. The abyss is opaque because they overpower the ability of my sight. The fog of war is opaque because I know what could be out there, but what truly is, is a mystery.

9. Hewn / Strewn – to chop / to scatter disorderly around

These words hit me the same because of the way they unfurl. With a strong beginning and ending in a humble "ewn".

While I say or think of the word hewn, I can't help but just imagine an axe chopping into a tree. Strewn is very much the same as it immediately brings to mind of things being thrown about all willy-nilly. These words are imagery words, and easily draws the image inside your imagination.

These words are always my favorite in their ability to describe in detail.

8. Epiphany – a sudden moment of eureka, an insight into the reality of something

That moment of truth where the lines go on fire and everything connects. You know exactly what is going on, what you're going to do, and how you need to make it work.

I have epiphanies all of time as the proverbial apple falls from the tree. It has a special place in my heart for being some of the most important but fleeting moments of my life. While mulling over things and it finally comes to you. It feels like rejuvenation of the mind and soul.

7. Chaos – compete disorder and confusion

Chaos has made the list due to its sound and position as the entity we combat every day.

Not only is it a very melodic word, it represents the disorder we experience in our daily lives. The confusion we have as feet get ahead of our head and vice versa. And the battle we take every day to try to comprehend and bring order and understanding to chaos.

6. Gumption – shrewd, resourceful, and has guts

I have always enjoyed this word as it relates to one of my favorite turns of phrase.

"They got GUTS."

"Nerves of Steel."

"Will-Power for days."

And…

"Cunning like a Fox."

"Shrewd like a Shrew."

"Vulpine like a Vulture."

"They could escape Alcatraz with a spoon and shoe string."

Gumption represents my three favorite personality traits of acumen (being strategic), resourcefulness (success with less), and mettle (intestinal fortitude).

5. Pragmatic – pertaining to a practical point of view and due diligence

This word is as genuine as it is enigmatic.

Emphasizing a logical viewpoint with a healthy dose of skepticism.

Using this mindset to develop due diligence and ensure the soundness of plans, actions, and YOUR life.

4. Ravenous – extremely hungry; famished; voracious: intensely eager for gratification or satisfaction.

Ravenous has always been my favorite because of it represents the temptations and the hunger everyone gets in living and surviving.

It is the most exemplifying of the words in describing the spectrum of human emotions.

3. Blithe – joyous, merry, or glad; cheerful: and without thought or regard; carefree; heedless

Blithe is my favorite word for describing frolicking in the Elysian Fields. I always preferred it compared with bliss.

It is simply the sound it makes is divine. It is a sound you rarely get to make in the English language.

2. Industrious - working energetically and devotedly; hard-working; diligent

Having always been a hard worker, with the pride of the calluses I have developed over the years on my hands and feet. This word illustrates perfectly the toil of work. From the back-breaking to the mind-numbing sedentary.

It is the one of the three words I would use to describe myself along with doggedness and gumption.

1. Paradox –

a. A statement, person, thing, or situation that seems self-contradictory or absurd but in reality expresses a possible truth.

b. An opinion or statement contrary to commonly accepted opinion.

This is by far my favorite word ever uttered.

I have had a strange fascination with this word from a very young age and have only fallen more and more for it from then.

To me, it's a word that emphasizes the epitome of life. A life full of contradictions, gray areas, and cognitive dissonance.

This word highlights those parts of our lives where we make life-defining choices that express who we really are and what we really hold dear.


Closing

And there you have it, my top 11 favorite words in the English language.

Many are epic.

But I chose them as they describe the epitomes of life in the most beautiful way. The most elegant way.

Born in a world of chaos with many things we don't understand.
Strewn with temptations and the ravenous hunger driving us.
A world of paradox that leaves us in the gray, opaque.


However. Lightning strikes. An epiphany occurs.
Turning the tide with the strength of our doggedness, a pragmatic mind, and a little gumption.
Living and breathing industriously to make for the better.
All the while, living blithely.

What are your Favorite Words?


The THREE Epic Words you would use to describe yourself?


And Don't Forget to Share!