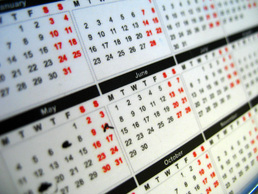 Power of the List: Habit List
Do you remember your New Year's Resolution?
I sure don't, I can't even remember my New Year's Night. Let alone that.
Have you ever wondered why you just can't seem to stick with it?
Besides the fact that I have better things to do?
Well the answer is simple.
Lay it on me.
You just don't have a Habit list that keeps track of what behaviors you're trying to build into your life.
Just
that simple, huh?
Just what is a Habit list…?
It is a list of behaviors you would like to instill in your daily, weekly, monthly, and yearly life.
You're very
creative
with the name…
And unlike New Year's Resolutions, which are one-time half-hearted promises to yourself. The Habit List is effective in helping you transform your actions into what you want.
Hey!
How'd you know I didn't mean it…?
And with the help of a Habit List and a little dedication. Your New Year's Resolution will BECOME your Daily Resolution.
Fine… if I have to…
But just why do New Year Resolutions fail…?
They fail because most people don't have the reinforcers that trigger the behavior you want… like your New Year's Resolution.
Duh.
To know more about how to build or replace your habits then check out my article on
Habit Formation
.
Is that all?
Just how do I inculcate the Habit List into my daily life…?
Well for the habit list to be most effective in your daily life. You have to already have a planner or schedule that you can place your new habits.
Having a planner and set way to ensure you do things regularly is the easiest way to incorporate new habits into your life.
Well I do like to write stuff down…
Simply add the habit you want to your regular schedule. Like yoga. If you want to do yoga every day, then do it immediately after you wake up. This will make it that much easier as waking up is your trigger activity and yoga will feel good after a long night of rest. This reward will motivate you to keep it up until your yoga-ing all day ere day.
No… not yoga… maybe walking my dog. He likes walks.
The beauty of the habit list as it keeps track of each one of the behaviors you want to pick up and implant into your muscle memory. And the events on this list revolve and do not get eliminated until you know for sure that the habit you want is instituted in your routine which can take a few days to many months.
Nobody has time for that!
Below is an example:
Habit list:
1. Use phone schedule to eliminate written schedule
2. Read 1 book a month
3. Type an hour a day
4. Study Chinese an hour a day
5. Workout 4 times a week
Closing…
Therefore, I work out 5 times a week. Do yoga 3 times a week. Practice Typing 2 times a week. Practice my Chinese 2 times a week. Read 1 book a month. Write my blog once a week.
Maybe, I do have time for that. What the heck! I'll give it a shot.

And that is just the tip of the iceberg.
What New Year Resolutions are you going to add to your habits list?