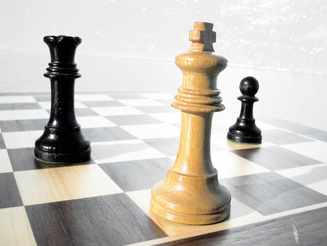 The world is a chess board.
Every decision and move you make causes openings and closings.
Openings that can create opportunities of a lifetime… or leave you open for attack.
And Closings that protect your position and strengthen your leverage… or leave you trapped and under siege.
Which comes to the main point of this week's blog post, the continuation of last week's post of
Questions to Ask Yourself to Leverage Yourself
.
What are the 9 best ways to leverage yourself?
As we spoke of last week, Leverage is Key to success.
And asking yourself last week's questions will give you a great idea on which techniques will be your best fit to build yourself leverage.
Now without further ado.
The 9 ways to leverage yourself…
Relationships
The easiest way to leverage yourself is to become the human rolodex or social connecter.
Having the ability to contact anyone or everyone someone else needs is a powerful position.
For example,
Business is all about who you know from investors, business partners, and clients. If you need someone to help you distribute a product, your advertising, referrals, or get you a spot on the show you always wanted. You need to know someone.
So the 1st way to leverage yourself is with relationships.
Go out and sincerely help connect others.
How do you do it:
1. Become an interesting person who can effectively entertain others in conversation.
a. Do interesting things that create stories you can pull from.
b. Read classic literature and interesting books on Philosophy, Politics, and History
c. Read the news so you can talk about the latest news
2. Next, you need to be able to have an entertaining conversation with anyone, anywhere and be able to convince them (if interested) to give them their/your contact information so you can help them with your service or product.
a. This can be established with practice by talking to strangers at events, bus stops, or anyone who happens to be standing next to you
b. And PRACTICE, PRACTICE, PRACTICE
3. Tactically network at events, groups, and other locations with others that are your ideal clients
a. When your there, don't try to sell people on anything. Instead tell stories and entertain them.
b. This makes it that much easier to tell them about what you do and let them know to give you a call if they need your services.
c. Or even better, get their information so you both can stay in contact if they are interested in the future.
Expertise
Another way to leverage yourself in any organization or in the job market is to have the expertise that others need.
This is best spelled out by the constant need for engineers, doctors, and many other professions.
If you have the skill, then they will come.
For example…
· Vocational Skills – Plumbers, Electricians, and others
· Technical Skills – Programmers, Engineers, and others
· Licenses – Lawyers, Doctors, and others
With these skills, you can leverage yourself as an expert and use it as a way to gain access to the field of your choice, be held in a high regard by others, and able to be a productive member of society.
The best part of this leverage is being sought out by others for your technical knowledge, making you indispensable to their lives.
Experience
This best translates as being mentor for others.
Become the person that people in your life or company come to for advice.
This leverage is similar to Expertise except it relates more to soft skills and knowing things that people don't learn at school like relationships, ethics, and other wisdom you only get from experience.
How to gain experience:
1. Learn it.
a. Just crack open a book, fiddle around with the tools of the trade, or even take a class
2. Find someone who you can get it from
a. Find a person with the skill you want and turn them into a mentor
3. Just work the job
a. This is finding someone who needs workers and experiencing it on the job.
Build a Following
This has always been my favorite way to gain leverage.
Become the leader for others who believe in what you do and focus it into a community, forum, or organization.
This can be from a following of people who love your products, service, personality, beliefs, stories, or anything else you can build a community around such as books, movies, and feelings.
How to build a following:
1. Find something that others will rally around such as a product, service, or piece of culture such as art, events, or happening.
2. Recruit a strong initial group of followers (Make them loyal and others will follow)
3. Have your strong followers recruit with fervor
4. And let the natural order of things take its hold as you grow your following
This all can happen gradually or overnight.
For example, it can take years to build a successful Fortune 500 company, or you can build a massive following with just one YouTube video or event.
Be in the Legal Right
Another way to leverage yourself is to understand the law and how to work it in your favor.
This can be as simple as having a copyright and taking the royalties for others to use it.
Or having clauses in contracts that protect you and your service.
Too many times have people tried or were able to run out of paying me for my work.
How to be in the legal right:
1. Have a lawyer.
2. If you can't afford one, make friends with one.
Or…
1. Have a
Technical Writer
do it.
Otherwise, you may have to read/write legal documents yourself. Which can be very hard and boring for some.
But if you're interested, you need to:
1. Read simple business law books that cover contract law, tort law, and the laws that govern your particular industry
2. Read the blogs of lawyers.
This will help you understand the nature of the law system and be able to protect yourself from bad business dealings and people who don't fulfill their side of the bargain.
Opportunity Seeker
Another way to leverage yourself is be at the right place at the right time by seeking opportunities.
This is the entrepreneurial leverage in seeking to establish yourself as the first in this business or creating something that everyone needs or wants.
The best way to do this one is to continuously keeping yourself in the loop. Looking for industry problems, people's problems, or any problems really that you could solve and ultimately build a business solving those problems.
How to seek the opportunity leverage:
1. Keep your eyes peeled for the opportunity of a lifetime such as the invention of something new and great.
2. Keep on the lookout for someone else's great idea and either help them achieve it or execute it better.
3. Create your own opportunity with a
Pet Project
.
Become a Trendsetter
Another way to leverage yourself is to be a trendsetter (Think Famous People).
This leverage is created by having people emulate what you do by either being a role model or creating something new and creative that people can get behind such as viral videos, art, and other culture pieces.
Being in the position of role model makes it easier to build a following, relationships, and opportunities.
This is a little harder than the rest as it relies mostly on luck. No one really knows what the next trend is, but once you strike gold and become one. It's a lot easier to ride your trend and continue building off of it to do it again and again.
How to become a trendsetter:
1. Continuously build your repertoire of things that can become a trend such as writings, films, audios, acts, or other medium.
2. Continuously put them out there on the market until it is discovered by someone or goes viral on YouTube or other media site.
3. Get discovered and ride your trend.
4. Don't let your 15 minutes of fame die.
5. Keep yourself relevant and ride your trend again and again.
6. Becoming a personality that you can leverage more.
A perfect sample of this would be a stand-up comedian.
He is funny, but you never know which routine will skyrocket him to the top.
But once he is there. It is easier for him to leverage himself as an actor, director, and create a new trend.
Finances
If you have the money or know someone who does, you can leverage yourself by being the biggest spender or at least being able to take bigger financial hits than others.
This leverage allows you to do more by being able to pay others for their expertise, reach further by being able to brand yourself through marketing, and be the biggest fish in the pond.
As the saying always goes… You need money to make money.
You can do this quickly or very gradually.
How to do it quickly:
· Get lucky.
How to do it gradually:
· Learn Long-term Investing in Stocks
· Make something that you can collect royalties off of every time it is used (Art, Music, Films)
· Create a business and grow it
· Get into Real Estate
· Leverage YOURSELF
Confidence
One of the best and for some, the hardest way, to leverage yourself is to build a confidence about you.
Have confidence that no matter what you do. You will do it well. And if you don't, you will do it until you are.
Resilience to know that even if you fail. You will make it look good. Because you are the Champion.
The best way to build this leverage is by reading my article about Joe and his journey in
Becoming the Champion
.
Now.
Isn't that exciting?
You now have the knowledge you need to effectively leverage yourself.
Albeit, you will most likely not be able to use them all, you can however figure out the best combination for you as you only need to be leveraged correctly in one or two to create value for others and come out on top.
Hope you enjoyed this week's blog post.
Please leave suggestions for more blog ideas in the comments.
Best,
L. Thomas